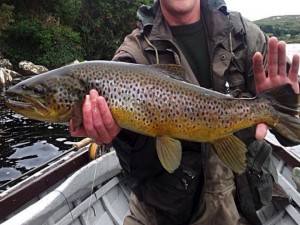 We provide boats with or without outboard engines for hourly or daily/weekly rates. There is also a gillie service available on request.
Whether you are experienced or a complete novice we can provide everything necessary for a successful fishing trip.
The lake has an abundance of fish for the coarse fisherman including Pike, Bream, Roach, Perch and Eel.
During the fly season Fly fishermen can catch Brown Trout from 2 lb. to 8 lb. The 'May Fly' season, providing many large trout on par with the adjacent Lough Arrow.
Any person requiring detailed information and/or advice on whether "the fly is up " etc. then please contact Pete!